Summer News: Welcome a new wave of voters + civic innovation
PB increases voter likelihood by 7%

New research shows that people who take part in PB are 7% more likely to vote in an election. Candidates are winning recent elections by narrow margins. A 7% increase in voter likelihood could reshape political landscapes. These findings confirm what we've been hearing for years: PB inspires participants to get more engaged in the civic life of their communities. Read more on this study and its implications on our blog.
Check out our talks, trainings, and workshops to introduce PB to new audiences. We help decision-makers understand how PB can make a difference in your community.
---
New data on young people learning democracy
The first year of the Participatory Budgeting Youth Fellowship (PBYF) in New York City ended with big results and impacts.
Fellows spent three weeks in a summer institute led by the Coro New York Leadership Center, performed 200 hours of service at New York City Council district offices, and continued their civic learning throughout the school year. They strengthened youth civic engagement in their districts and grew as community leaders.
One Fellow shared, "I have now started to step up as a leader in ways I never thought I could. I am shocked at the tremendous growth I had over the course of this program." 
They reported powerful changes between beginning and ending their fellowship:
100% said they are now very knowledgable or somewhat knowledgeable about how youth voice and representation can impact policy and decision making.
100% said they are now very knowledgeable or somewhat knowledgeable about understanding how institutions work (city council, city agencies, etc.).
100% said they are now very knowledgable or somewhat knowledgeable about how to gather community input and multiple perspectives.
100% said they are now very knowledgeable or somewhat knowledgeable about how to plan and manage a community forum or assembly.
Almost 90% said they are now strong or very strong at resolving conflicts when working with others.
Check out how youth fellows got out the youth vote in PBNYC. Follow them on Instagram for more updates!
---
Building civic innovations
It's exciting when a project someone proposed or voted on in PB wins. But, this can turn to frustration if the city doesn't seem to be implementing the project right away. PBP's  Participation Lab is developing a new data tool for tracking PB projects and outcomes: the "myPB.community" web platform. We're piloting it in NYC, with plans to expand it to more cities—yours?
Explore more about mypb.community on our blog. See us present during the Learning about NYC series presented by NYC Open Data and Civic Hall.
Learning About NYC: Transportation
Tuesday, July 31th
@ 6:00 pm – 8:30 pm (EDT)
118 West 22nd Street
New York, NY
To continue to build out innovations for PB, we're excited to receive a prestigious Public Fellows grant from the Mellon Foundation and American Council of Learned Societies. This grant enables us to welcome humanities scholar Antonnet Johnson, Ph.D to our team as Participation Design Strategist.
---
Upcoming webinar – you're invited!
The Hewlett Foundation and Omidyar Network recently funded a report on PB and the role of philanthropy in supporting its growth. Join report authors and international experts Brian Wampler, Stephanie McNulty, and Michael Touchton. They'll discuss the latest data and key lessons on participatory democracy for funders and researchers. Learn how PB can strengthen civil society, improve government transparency and accountability, and improve social outcomes.

---
In the News
---
We welcomed 38 new PB Amplifiers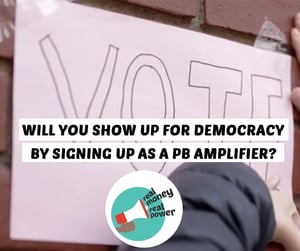 During our first Spring into Democracy Campaign, we grew our community of supporters who believe in our work. We're so grateful for their support! Will you join them?
Onward,
PBP Team
---
Our work is only possible due to the generous support of individuals, public funding, and our foundation partners: